Kitsch or Quiche? (third installment)
1 December 2017
The atmosphere of UMASS' MFA program took some getting used to. In a school of 25,000 students there were only five painting candidates admitted per year. At 21 I was the youngest, and one of two awarded a full ride in the form of a teaching associateship. My ego soared as I taught drawing and 2D design to students who were often older than I.  Yet, with so few in our program campus life was an isolating experience.
Every few weeks the faculty would visit our studios to critique our work. I was used to working on the same painting for months, and was disappointed that my professors were expecting more output.
The first semester I completed only one canvas. Cork Dog was a narrative in acrylic that no one got except for me. It told the story of personal pain couched in bright colors and deceptively whimsical imagery.  An accompanying poem was published in the school creative magazine.  The painting, however was not accepted for publication. Nor was my panel amused.    scroll to keep reading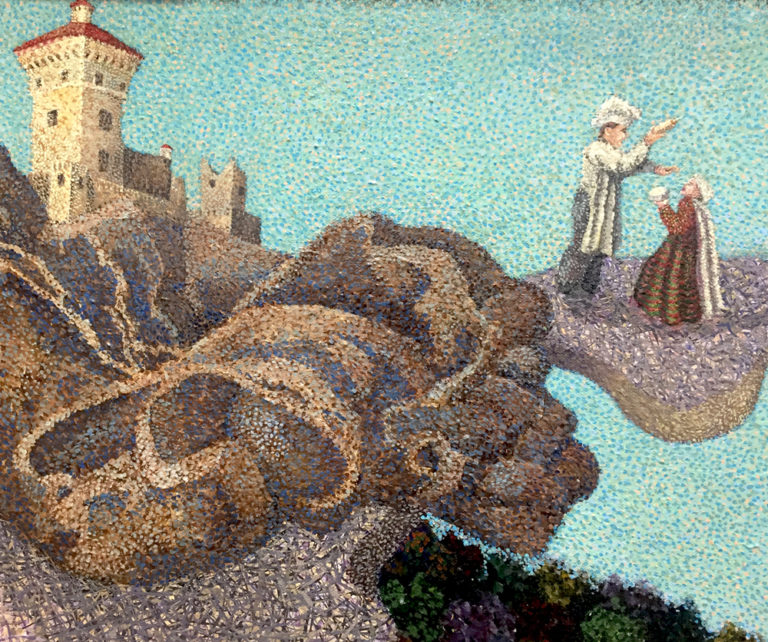 At the time I didn't know what 'kitsch' was. When they called it that, I thought they were talking about french cuisine. One professor had a more positive spin, pointing out the rich texture of the path, and the complexity of color in the foliage, suggesting that an entire idiom in paint could be invented from that alone.
An MFA would be granted if after two years, a cohesive body of work extensive enough to fill a gallery were produced along with a defensible written thesis. Mine was conceived after that first critique. I was to explore oils, and create abstract textural spaces using what was to become my signature mark – the layered spiral.